Overview
BERNINA 780 with embroidery module — Create beautiful embroidery
Extended Freearm
The BERNINA 7 Series includes a meticulously engineered extended freearm with ten inches / 254 mm of space to right of the needle—plenty of room for big sewing projects. Large designs can also be embroidered on the oversized embroidery area. When needed, the BERNINA 780 can also be upgraded with a diverse selection of accessories.
Endless Embroidery
You can create mirror images, as well as rotate, combine or resize your designs right on the color touch screen. Personalize with decorative stitches or alphabets with embroidery patterns. Preview alternate color options on the touch screen and save them on your machine or on a USB stick. Use Absolute Check for perfect design placement.
The BERNINA Stitch Regulator (BSR)
The BERNINA 780 is equipped with the BSR function. The BSR foot provides high-speed free-motion stitching assistance with both straight and zigzag stitch options and it comes standard with the machine.
BERNINA Dual Feed
Optimum visibility and superb fabric feed. The innovative BERNINA Dual Feed tames hard-to-manage fabrics. Easy to engage when needed, the BERNINA Dual Feed tucks completely out of the way when it's not.
Greater Sewing Pleasure
The 7 Series machines respond to your needs. For example, the presser foot automatically lowers at the start of a seam and lifts again at the end. The machine will even cut the thread for you at the end of your seam or colour change. Also included is a practical extension table with ample space to hold your larger sewing projects.
Total Stitch Control
The BERNINA 780 provides an exclusive level of stitch control. Whether altering the stitch length, stitch width, or needle position—or even creating combinations—the machine will remember the stitch details for you.
Tips and Tricks
User-friendly features and intuitive navigation: the Sewing Consultant and built-in tutorials offer direct onscreen support and answers to your questions any time, day or night.
Large Selection of Stitches and Embroidery Designs
The BERNINA 780 offers hundreds of stitches, all of which are clearly categorized and easily accessible. In addition, there are over 130 built-in embroidery designs and 12 alphabets. Your own embroidery designs can also be quickly loaded via a USB connection.
Kazu Huggler for BERNINA
We are pleased to announce our partnership with Kazu Huggler. Belonging to a new generation of international fashion designers, she lives in Zurich, where she owns her own shop and fashion label, «KAZU». The daughter of a Japanese mother and a Swiss father, she grew up in Japan and Switzerland. Her designs are mostly inspired by traditional Japanese culture.
For the launch of the 7 Series, Kazu Huggler created an exclusive dress. She designed the fabric herself and produced it in Switzerland. The design features a crane—a traditional Japanese symbol that stands for luck and longevity. The cut is inspired by the traditional Japanese kimono.
A World Premiere
The New BERNINA 9 Hook
With the launch of the 7 Series, BERNINA presents a world's first, the BERNINA 9 Hook (B 9 Hook). Combining the two best hook technologies, the B 9 Hook is patent pending.
The new heart of the BERNINA machine features a novel, centrally-placed driver, which allows the B 9 Hook to run steady and quiet. The B 9 Hook sews high-precision stitches up to 9 mm in width with speeds up to a 1,000 stitches per minute. And the bobbin has 80 percent more thread capacity than our standard bobbins, allowing you to sew longer without interruption.
Finally, the B 9 Hook is made of high-quality materials that allow the thread to run smoothly with consistent tension.
Accessories Included
BERNINA Stitch Regulator (BSR)
The BERNINA Stitch Regulator (BSR) adapts precisely to your current sewing speed to produce absolutely consistent stitching.
Small embroidery hoop
The Small embroidery hoop (for normal use / free-arm embroidery) is a whiz at embroidering tubular items such as sleeves or pant legs.
Medium hoop – for medium-sized designs
The Medium hoop is a useful tool for the accurate embroidering of medium-sized projects with the BERNINA embroidery machine.
BERNINA bobbin for the 7 Series
The BERNINA package for the 7 Series holds 80 % more thread than normal bobbins.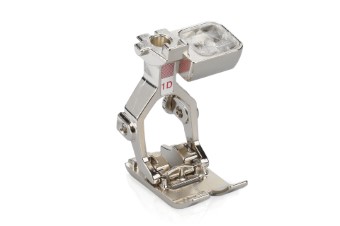 Reverse pattern foot # 1D
Reverse pattern foot # 1D is the ideal presser foot for sewing forward and reverse-feed utility and decorative stitches.
Large oval hoop
The Large oval hoop is suitable for both design combinations and extensive embroidery designs. The template makes quick work of accurately positioning the project in the hoop.
Overlock foot # 2A
Overlock foot # 2A lets you neaten seams easily and sew high-quality hems, waistbands and overlock seams on knit fabrics.
Buttonhole foot with slide # 3A
Depending on the model, Buttonhole foot with slide # 3A determines the desired buttonhole length for identical buttonholes either via a sensor or manually.
Zipper foot # 4D
Thanks to its narrow, centrally positioned toe, Zipper foot # 4D can stitch very close to the zipper coils, allowing it to sew the zipper on neatly.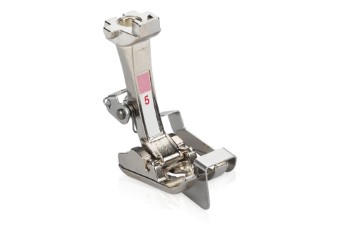 Blindstitch foot # 5
Blindstitch foot # 5 is suitable for sewing blind hems on all fabrics. When this foot is used, you can hardly see the stitching from the front.
Jeans foot # 8D
Jeans foot # 8D produces neat straight-stitched seams on tough, heavy fabrics such as denim, leather or canvas.
The BERNINA bobbin case
The BERNINA bobbin case for the 7 Series, like the BERNINA bobbin case for CB hook machines, is designed for sewing utility and decorative stitches, but this bobbin case is for machines with a stitch width of up to 9 mm.
Free-arm slide-on table for more sewing space
The BERNINA Free-arm slide-on table offers greater comfort thanks to an increased sewing area, without affecting free-arm function when sewing.
Free-Hand System (FHS) / Presser foot lifter
The Free-Hand System (FHS) / Presser foot lifter lets you raise the presser foot and lower the feed dog with your knee. Recommended particularly when working with delicate fabrics.
Open embroidery foot # 20D
Open embroidery foot # 20 / 20C / 20D is ideal for embroidering with your sewing machine. The indentation in the sole of the presser foot allows it to glide smoothly over dense stitches.
Sideways motion foot # 40C
Sideways motion foot # 40C enables multi-directional sewing, and allows you to sew out large sideways motion stitch patterns.